FAVORITE ECO CRAFT RECIPES
2010
05.01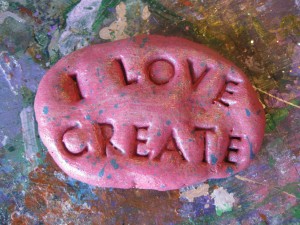 Here is a growing collection of recipes that are great for use in the  STUDIO or at home.
Please enjoy!
Super Easy Salt Dough
Great for school projects or, just having fun!
When baked, this clay becomes as solid as a rock for a well preserved memory.
Ingredients:
2 cups flour
1 cup salt
1 cup water
1. Mix salt and flour.
2. Add in half the water, then gradually add the remaining water.
3. Knead until the dough is smooth, this can take up to 10 minutes.
Baking: Time varies based on thickness of ornament
Temperature: 225 degrees
Time: 3 hours – or until hard
This dough is a timeless remedie to spring fever! Sculpt, cut, paint,Create for a treasure to last a lifetime.
To preserve, coat with clear acrylic sealer, Awesome!
Ghoulish Glop (a.k.a Flubber)
Part I – In one larger bowl mix
2 c.  white glue
1 1/2c warm water
Drops of Food/ Watercolor Coloring as needed
Part II – In another bowl mix:
1 1/3 c. warm water
4 tsp. BORAX powder
NEXT – Pour Part II into Part I. Swish it around until it is flubbery (not all water will be mixed in, that's okay). Lift it out and knead on a non-porous surface. Enjoy!
Storage:
Store in airtight container
Can last up to after 6 weeks 
Homemade Paint
This recipe is edible though not recommend for eating.
What You Need:
cornstarch

water

food coloring

small plastic bowls or containers
 What You Do:
Combine equal parts of cornstarch and water (1/4 cup  per child)
Add 2-8 drops of food coloring and stir until blended to desired color.
Repeat to make a variety of colors.
 Baking Soda Clay
(from http://thenewnew.blogspot.com)
You will need:
1 cup corn starch
2 cups baking soda
1.25 cups cold water
Non-stick pot
Wooden spoon
Med-large bowl 
Damp cloth, lid or plate 
 First:
Combine ingredients in the pot and stir until smooth, cooking over low-medium heat, stirring constantly, until the mixture resembles mashed potatoes.
Then:
Remove from heat and let cool in a separate container either covered with a damp towel or mostly covered with a plate or lid until ready to use.
Then:
Sculpt. If necessary, use a bit of water to stick bits of dough together. Be careful, though, as the softness of this dough makes it prone to dissolve.
Finally:
Allow to dry, about 2 days depending on the size and thickness of your finished piece.