School Field Trip Opportunities
2012
01.23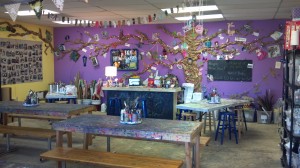 CReATE loves to share eco creativity with students and teachers alike. 
We'd love to have your school visit us for a super fun experience where each child is master of their creation!
The studio provides an open ended opportunity for children to explore their creativity though the flexible process that the self-serve material bins of recycled and new materials, as well as traditional artistic materials like tape, glue guns, glitter and paints provide. 
Students can focus on specific projects such as robots or bird houses just to name a few, or they can formulate their own ideas based on the materials they find in the bins. No matter the the project, kids learn about the value of reusing ordinary everyday items to build on ideas, problem solve their projects and reach their goals.
The studio setting nurtures outside the box thinking, builds on the children's self confidence, cooperative abilities, critical thinking  and independence.
The 800 square foot space comfortably holds a class of 30 students as well as teachers and volunteers. Inquire about booking your class trip today! We can coordinate with your curriculum and invite children to support eco art by bringing a clean recyclable along to incorporate into their projects! 
The studio field trip fee is $5.00 per student and applies to all elementary age levels. We can also offer scholarship passes to families with economic hardships. Please contact Jemma Wildermuth at createstudiofun@gmail.com  for more information.
Click the link below to download this information to share with parents and teachers.
https://docs.google.com/open?id=0B_lCfdB6RbpVNGMwZmRiYmEtOTU0ZS00NjliLTlkZDgtZWMxZWVhYTFmNWE1